This article was originally published in the November print issue of D Magazine written by Ginni Beam. Check out the

 

full piece here.

The Dallas designer's new clothing line melds loungewear with tennis style.
For 15 years, Monica Millington basically lived in her Juicy Couture tracksuit. It was her go-to, an elusive combination of cute, sturdy, and comfortable. When attempts to find a replacement came up short, the Dallas native designed her own. Her first unisex capsule collection, currently available only online, dropped in late August. It's already poised to sell out. 
This is not Millington's first entrepreneurial venture. When her husband's work took the couple to Singapore, she started a line of climate-accommodating performance menswear called Tropick. She also competed on Netflix's The Apprentice: One Championship Edition, making it to the top four with her apparel startup concept and building a loyal online following along the way. With the support of an eager audience who shared her aesthetic, she says, it was the perfect time to start "something that was genuinely me."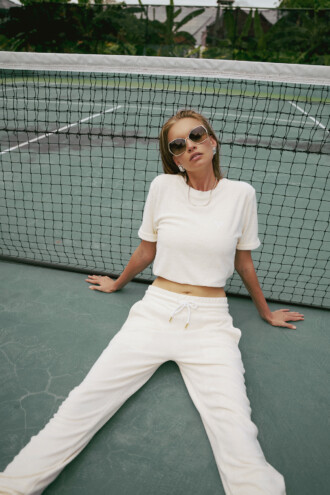 That's how Sette was born. The tagline—"kinda sporty, kinda not"—describes both Millington's personality and the brand's aesthetic. Don't be fooled by the tennis racket logo: this isn't really activewear. The insignia is a wink to the brand's "rich tennis mom vibe," an attitude she found prevalent in both Singapore and Dallas.  
In Millington's case, that attitude comes with a commitment to sustainability. "No business is 100 percent sustainable," she says frankly. "But I wanted to build that in so that no matter how big the business grows, that's always going to be a core part of it." The company uses minimal, fully recyclable packaging and plants a tree in Indonesia for every garment sold. 
Bamboo-based toweling is used for the fabric. The fiber is incredibly durable, growing softer with wear and holding up well over time. But its key selling point is the fact that bamboo requires no natural resources and doesn't need to be farmed. "It's basically a weed," Millington says. 
Limited production is a priority. With small runs, Millington ensures that each capsule collection sells out, allowing her to capitalize on trends while minimizing waste. "Forever 21, H&M, Zara—they all have landfills' worth of clothes at the end of every season," she says. 
Millington has a lot to look forward to in the new year. Her goal is to find a physical space for a storefront in the Knox-Henderson area, she's designing a spring collection, and she's having a baby. But don't expect that to slow anything down. 
"Right now, I'm kind of putting the baby mentally on hold," she says. "I'm so excited for it. But Sette has been my baby and my passion, and I'm just so excited to see where this goes."